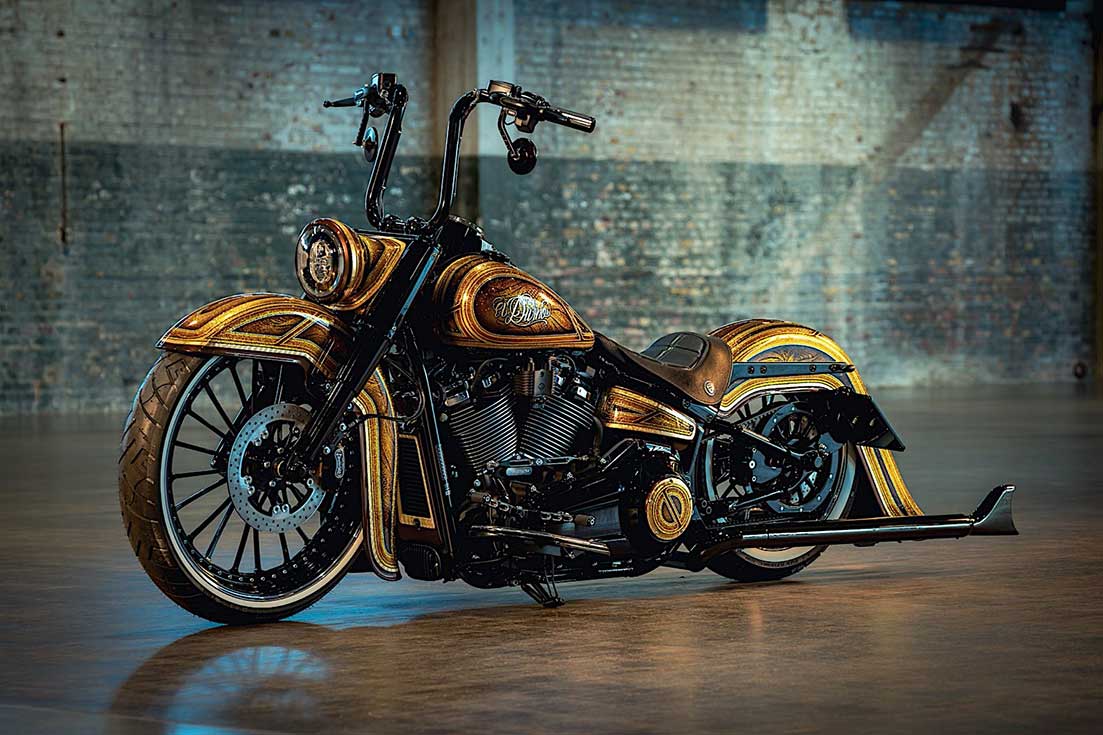 by Daniel Patrascu from https://www.autoevolution.com
"Lots of metal, lots of color, lots of everything!" These are the words used by German custom motorcycle shop Thunderbike to describe El Divino, a Softail Heritage 114-based project looking more like a bike worth admiring than riding.
True to the Chicano style of motorcycle building (the likes of which we've seen before from Thunderbike, like say with the El Dorado), El Divino came into the world sporting the exaggerated front and rear fenders of the style, an extremely long exhaust system, and a paint scheme that either makes your eyes hurt, or shed tears in delight.
The bike sports modifications all over. First, there's a swingarm conversion especially designed by the shop for the Chicano style. Called Toxic, it was developed with the goal of being a fit for both the 18-inch wheel and another in-house-made piece of hardware, the pulley brake kit.
Then come the modified triple trees for increased steering angle, allowing for the fitting of a massive 23-inch wheel. An air ride suspension is also on deck to make the motorcycle get low for artistic value whenever the need arises.
From the minor parts like the license plate frame to more important ones such as the brake discs, almost everything has been tampered with in one way or another. In all, over 35 new pieces of hardware made their way onto the build, but none seem to be as in-your-face as the paint job.
The golden-wooden appearance is the work of one of Thunderbike's partners, Chiko's Pinstriping. Chicano bikes have a lot of metal skin on them compared with other styles out there, and Chiko took full advantage of this to create a scheme you'll either love or hate: much like with all Chicano bikes, there's no middle ground here.
As for how much this thing cost to put together, Thunderbike gives no info. They do however list most of the parts used, and since they're available in the Germans' online shop, we can tell you all the extras are worth at least 11,000 euros, or the equivalent of $13,300 at today's rates.