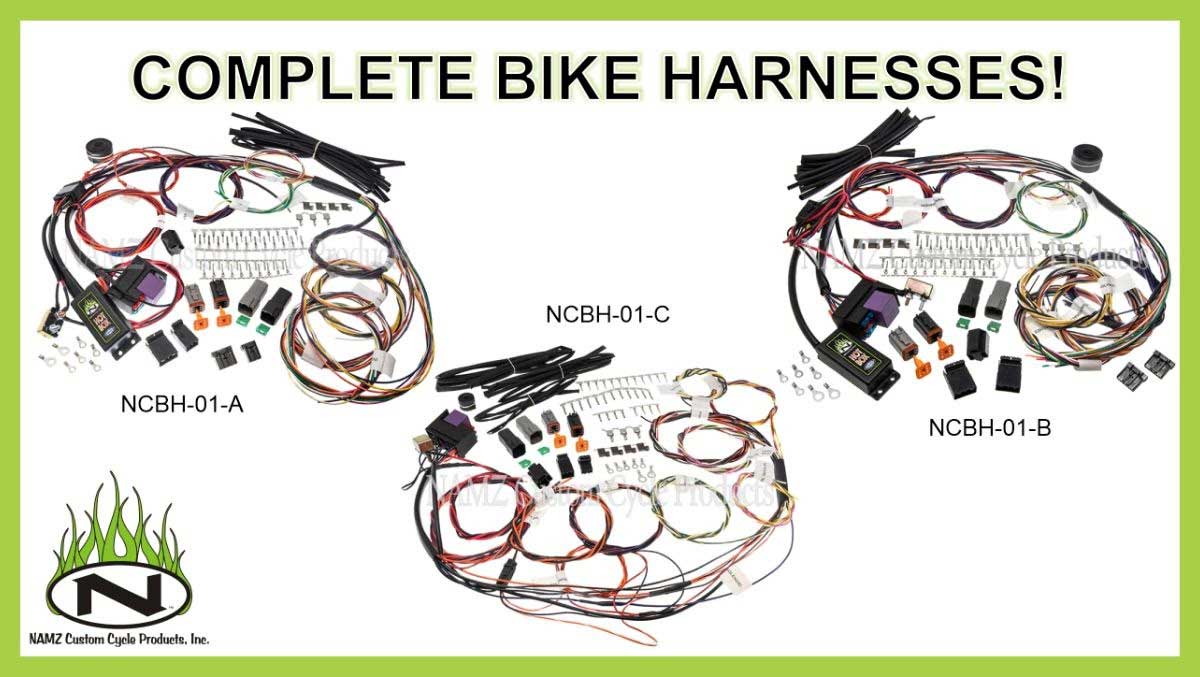 The last thing anyone ever thinks about… because… it's a haunting task that can have your ride laid up for months. Nope… we disagree. Our wiring guru's here have put all the thought, effort and quality engineering you have become used to and are proud to offer you (3) simple complete wiring harness choices to keep your ride on the road where it belongs. And they are 100% universal and can be installed on ANY motorcycle. All you need is some creativity, time and some basic tools because we also provide color printed instructions to keep your blood pressure low!
The first choice and most popular is our "feature-filled" NCBH-01-A kit as it provides running light and turn signal functions to front turn signals on (1) power wire per side, 2-fucntions on one wire! The rear signals offer our patented running light, brake light and normal turn signal functions all on (1) wire per side! Our NCBH-01-B is the same kit except it offers standard turn signal functions only for front a rear. Lastly, our NCBH-01-C kit is a "bare-bones" chopper style kit without any turn signal functions.
Here is a list of features:
OEM color-matching wiring with 11-second self-canceling turn signal module, (A & B only).
Fuse block holds a full size, commonly available & replaceable starter relay and (3) ATO fuses.
A 30-Amp circuit breaker is installed and is ready for any regulator/charging system.
Harness provides running light and turn signal functions to the front turn signals, run, brake and turn signal functions for the rear turn signals.
Oil, neutral, high beam, and turn signal indicator wiring.
Color matching handlebar switch wiring as found on '96-'13 non-glide models.
Headlight wiring with headlight socket and terminals.
Front turn signal connectors and terminals. (A & B only)
Rear fender harness with connectors and terminals. (A & B only)
Key switch wiring with ring terminals.
Coil wire with ring terminals, tachometer, horn, oil sending unit, brake switch and neutral switch wiring with terminals.
Sections of 3/16″, 1/4″, 3/8″ and 1/2″ ID heat shrink included.
Heavy gauge 12 (+) power and (-) ground wires with terminals for battery connection.
Best part is that you do not need a degree in Electrical Engineering to install them. The instructions make life easy, all of the hard connections are made for you. All you need is a good crimping tool, angle cutters and a heat gun. If you want to get slick with hiding wires, a drill and some bits will be needed. Take your time, make a plan of what you want to put where and have at it!
CLICK HERE TO See all complete wiring harnesses here!